---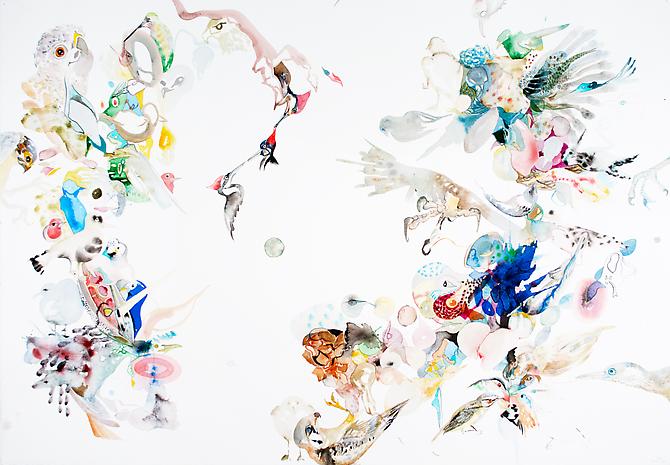 ---
EMILIE CLARK
When I first began using Victorian women naturalists as the point of departure for my art in 2003 I discovered an unanticipated freedom.By inserting myself into the dynamics of the work of these historical figures (Mary Ward, Mary Treat and Martha Maxwell), and into the worlds opened up by their lives and practices, I was able to live more fully in my own constructed world of art making—a world that, like theirs, emerges out of close observation of ambiguous objects and feeds off the constant flux between categories generated by that observation.Spores, pollen, egg sacks, hives—nature is filled with tiny worlds that are at once contained and whole and yet built or woven out of infinite parts. The role of a naturalist involves the investigation of these parts, the dismantling and the reconstruction of them. At a larger scale, each of these women carefully fabricated an elaborate and immersive world of their own explorations of natural history—based on microscopic observation for Ward; carnivorous plants and beneficial insects for Treat; and taxidermy for Maxwell.Following them in their endeavors I have discovered allows me to bring otherwise conflicting elements into my work—cosmology, natural history, collecting, taxonomizing, role-playing.
Working within a defined structure has long been a part of my work—The Weeklies (a series of one-a-week paintings I began in 1995 and plan to continue for the rest of my life) are entirely dependent on the restrictive structure of their size (9'' x 12'') and their weekly, life long reoccurrence. But while The Weeklies treat my life as a specimen, my other projects zoom in and focus on one particular world in order to live fully inside it. It's important that these projects involve historical figures that lived lives in which there was no separation between work and life—and that these work/life complexes were organized around the study of animate objects whose description at once relied upon and defied established categories.
I'm drawn to the Victorian period both because of the accelerated pace of scientific exploration (and destruction) and because it was a period in which, on the tail of these expeditions, women first had a modicum of professional status as scientific correspondents and illustrators, though far less frequently as full fledged scientists or artists.Women were more likely to attain authority and influence in science if they were married to a powerful scientist, and served, in effect, as his assistant.Maxwell's, Ward's and Treat's work was not connected to a man and took place despite all odds. The work of all of these women forced them to defy dominant social expectations: they all had estranged family life; difficulty supporting themselves financially; and although they had much respect from scientists in their fields, this did not translate to institutional support.There is a sense in which each of them was forced to live in the world of their elaborately constructed scientific studies.Like Treat with her menagerie of carnivorous plants and beneficials, Maxwell seemed to occupy the world of her animated, inanimate objects and retreat to the cave that was essentially in their landscape.
Artist website