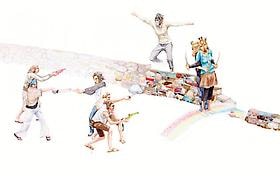 Laura Ball
American Dreamers Facing or Escaping Reality in Contemporary Art | Florence, Italy
2 March, 2012
The Centro di Cultura Contemporanea Strozzina (CCCS – www.strozzina.org) at the Palazzo Strozzi (www.palazzostrozzi.org) in Florence, Italy, is currently organizing for the spring/summer 2012 in partnership with the Hudson River Museum, New York.

2012 marks the 500th Anniversary since the death of the Florentine navigator Amerigo Vespucci, who gave his name to America. The city of Florence will mark this event with two exhibitions conceived to honour the strong ties linking the Old World and the New. One of the exhibitions will be "Americans in Florence: Sargent and the American Impressionists" presented at the Piano Nobile of Palazzo Strozzi exploring the American impressionists' relationship with Italy, and with Florence in particular, in the decades spanning the close of the 19th and dawn of the 20th centuries. The historical show will present works by John Singer Sargent, Mary Cassatt, James Abbott McNeill Whistler, Winslow Homer, William Morris Hunt, John La Farge and Thomas Eakins.

Click here for link.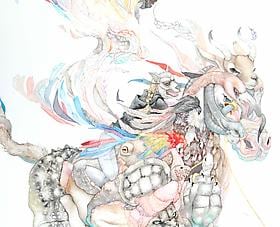 Laura Ball's Watercolors at US Embassy-Stockholm
3 August, 2010
Stockholm: Transparency and Trans-formations in Contemporary American Art
Exhibition of Contemporary Works by American Artists to be Exhibited at Residence of U.S. Ambassador to Sweden

Transparency and Trans-formations in Contemporary American Art, an exhibition of 23 works by 20 American artists — including Kiki Smith, Spencer Finch, Claes Oldenburg, Mark Bradford, Laura Ball, and Jennifer Steinkamp — will be on view at the residence of the U.S. Ambassador to Sweden from April 16, 2010, through June 2012. Reflecting America's increased emphasis on transparency and international engagement, the exhibition offers a view of the rapid shifts occurring today in culture, society, technology, and science.

Click here for link.
click on projects, then click on Stockholm