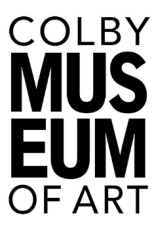 Carly Glovinski at Colby Museum of Art | "currents 8"
September 25 - February 17, 2019
"How do you locate a landscape? For the eighth installment of the currents series, Carly Glovinski posed this question to generate a group of works for a two-part exhibition that will be shown concurrently at the Colby Museum and the Waterville Public Library. In its presentation of painted, cast, and woven forms, the exhibition manifests what Glovinski calls a "viewshed," a term she has adopted from terrain analysis to describe her associative and egalitarian reflections on how we understand nature through the world of things.
Glovinski's painted sculptures can often be mistaken for functional objects. The list of varied items invoked in her currents project includes fishing poles, books, partially completed jigsaw puzzles, and a colorful crocheted blanket. Glovinski approached the Colby Museum's Lunder Collection of American art in a similarly acquisitive spirit, and a complementary arrangement of these works—by Winslow Homer, Thomas Moran, and Edmund Charles Tarbell, among others—will be displayed at the Colby Museum in a gallery adjacent to her commissioned installation. For the portion of the exhibition mounted at the Waterville Public Library, Glovinski has created a group of three-dimensional paintings that closely resemble books in the library's collection. These painted objects, all of which take landscape or other forms of nature as their subject, will be exhibited on the library's shelves. Designed to be explored by the hand and eye, they will be discovered by library patrons via a finding aid."